I promised
Impulsive
that I'd link up to her new linky dealy. Her linky is on Tuesdays...today is Wednesday. So, as always I'm a day late. That's my life.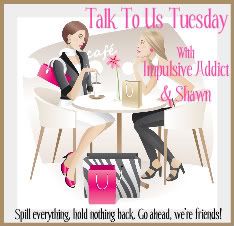 Impulsive's linky is Talk to Us Tuesday where you basically just chat about whatever you want. So I'm going to give it a try--and try not to bore you. Here goes:
(Patrick after he scored a goal! Yay!! His back is to the camera, that other little cutie is his best friend. They are so cute together...little boys, LOVE THEM!)
-I'm officially a soccer mom--but NO mini van! Patrick is playing soccer this fall. He loves it, it's super cute and we're having fun. Is there anything cuter than little 5/6 year old boys and girls running around in their too big chin guards. And really, you know why they play...for the after game snacks.
-My heart was so sad and heartbroken for the past two weeks. A friend of mine lost her 4 month old baby. It's the first time that a child of one of my friends died. I struggled with the right words to say, when to act and when to back off. I couldn't make sense of it, this precious family who has gone through so much heartbreak already. Why is this happening to them? They are the strongest, most faithful family I've ever seen. God is with them everyday. But won't you please say a prayer for my friend (God will know who you're talking about, I don't want to put her name out in public without her permission), for continued healing of her heart, peace, understanding and for them to help their other children grieve while she's grieving herself. And give your children one more hug and tell them you love them, life is precious and unpredictable.
-I'm obsessed with my hair. It's ridiculously out of control and ugly right now! I need to get my highlights done, but I don't know what to do. I'm in need of a serious hair cut, but I don't know what I want. Ugh, my hair has always caused me great disdain (except when I was preggers with Patrick, I had awesome hair then).
-Visit
ttownmoms.com
. Comment, put something in the forum. Stop by and say 'hi'! We'd love to see you over there. There's big plans coming down the pick for ttownmoms.com, can't wait to tell you about it when I know more. But stop by!
(seriously, why'd I put this ridiculous photo of me on here? It's the only pic I have of myself running...gag).
-Running...you knew I was going to go there. I've had some serious setbacks lately. Nothing physical. It's all mental. My motivation is gone. I need to get my running mojo back! Help! I used to run at least 4 times a week, but now I struggle to get out twice a week. I just don't feel like going. And I actually kind of like running (well, I don't like it when I'm doing it, but I love the way I feel afterwards--weird, I know). If anyone would like to give me some words of motivation, that would be great.
So there you have, my "Talk" for Talk to Us Tuesday (on a Wednesday). Sorry I wasn't too boring.